Many business owners realize the importance of digital marketing but are uncertain which channels to choose. The confusion arises because it can be challenging to grasp how different platforms operate in the online advertising maze.
To make things more complicated, what Google used to call their advertising platform, Google AdWords, has been rebranded as Google Ads. Let's not forget YouTube, the massive video-sharing platform (and social media outlet) as a possible place for advertising, which also happens to be a Google subsidiary. 
Throw a few other promotional channels – such as social networks Facebook and Instagram and business interaction site LinkedIn – into the mix, and things get even more complicated when you're trying to decide where to concentrate your online advertising.
In this post, we'll guide you through how these platforms can provide a powerful marketing tool for businesses, and help you understand the ins and outs to help you get the best results.
Two platforms definitely worth considering are Google Ads and Facebook. I know that many of my clients are confused about advertising on these two sites, so we'll look at them first.
How Do Google Ads Work?
Google Ads is a form of pay-per-click (PPC) search engine marketing (SEM). Google runs the largest search engine globally, and Google Ads can get you top rankings fast – connecting with people looking for the products or services you offer.  You have probably seen them countless times during a Google search you've done.  There are usually a few ads at the top of any search results page you see.  If you are doing a local search (e.g. "West Hartford divorce attorneys") you will see the ads above the map and above the "organic" search results.  Take a look at the image here for reference: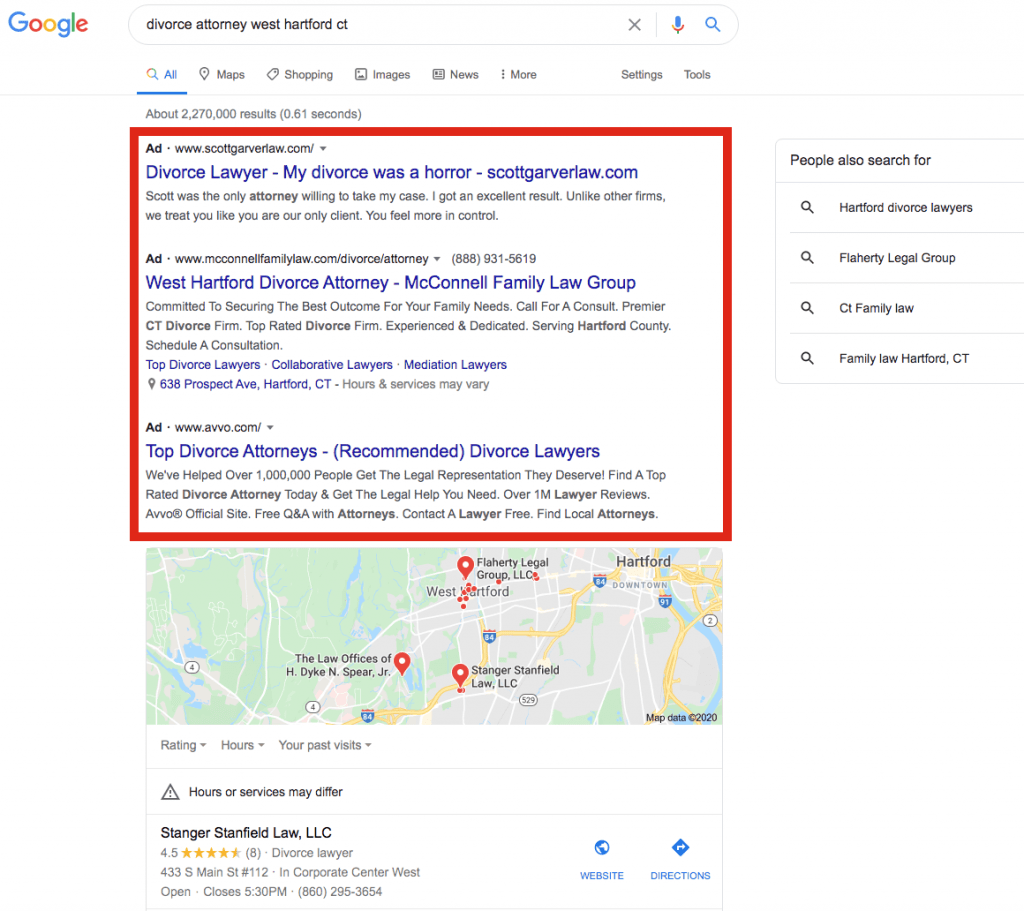 You bid on keyword phrases (e.g., "family dentist") and fix your budget by setting a maximum cost-per-click (CPC) for each keyword. You only pay when someone clicks on your advertisement. You can narrowly focus your ads on localized focusing in your market. For example, you could indicate you only want your ad to show in Hartford County. You can also control your budget to not exceed a specific spending limit per day or per month. If you hit your budget, your campaign gets paused. This helps give you a measure of certainty on what your ad spend will be per month.
It's easy to set up a Google Ads campaign, but it can be challenging to run your ads cost-effectively. You need to continually fine-tune your campaign to get the most clicks for your budget. Keep in mind, the amount you will pay for each click is an auction of sorts. 
The more competitive the phrase (e.g. "divorce attorney"), the more likely the cost-per-click will be higher – it could range from $1 up to (and above) $50. You will very quickly learn if the budget you have set for your business is adequate or not.
Another problem is choosing the right keywords relevant to your business. This may seem straightforward but requires extensive research to create a strategy to keep your cost-per-click fees as low as possible while maintaining high visibility among potential customers. Keeping an eye on your campaign and seeing if specific keywords are yielding unwanted results. For example, if you were an electrician, you would ensure you aren't getting traffic from people looking for commercial services if you only do residential electrical projects. The great part of Google's platform is how detailed it allows you to be. The downside is it takes time to master it.
Google AdWords became Google Ads in 2018. The new brand includes display and video advertising options across all its channels and partner sites.
Google Display Ads
Google Display Ads are a type of PPC remarketing that don't show up in search results but appear as banners or boxes on various websites. This puts you in front of people who've previously searched online for the types of goods or services you offer or have looked at related content.
Display Ads can be an effective long-term marketing campaign, with customers not immediately responding to your ad but looking for you later – and you don't pay for clicks you don't get. This remarketing strategy is cost-effective and becomes an option once enough of your potential audience has been exposed to the initial ad campaign. 
You need to reach a critical mass before you can start a remarketing campaign.
Google Video Ads
This system shows video ads in YouTube search results or before, during, or after videos on YouTube and the Google Display Network, with demographic targeting to reach your audience more efficiently. For example, you might structure a campaign to run whenever anyone in Connecticut views a chiropractic video if you were a local chiropractor.
With Google Video Ads, you may find less competition and much cheaper keyword costs. However, you need a professional-looking eye-catching video designed to spark interest. This then is an additional cost to factor into your plans.  
How Do Facebook Ads Work?
Popular social media site Facebook employs state-of-the-art geographic and demographic targeting technology that can help you attract more business.
Facebook Ads basically work on a pay-per-click basis like Google Ads. Or you can choose to pay each time the platform displays your ad, whether or not anyone clicks on it. Click-through rates (CTR) have been increasing for Facebook advertisements since the platform began introducing further measures to improve is marketing tools for businesses. 
With Facebook advertising, an analytics system measures your campaign's performance, so you can see how it's doing in comparison with promotional drives of your competitors. This enables you to fine-tune your campaign as and when needed.
Demographic and social science research suggests that a vast majority of people in the U.S. who go online use Facebook – and they include potential customers in your catchment area. Facebook is popular with individuals and businesses alike, and it allows you to tap into a broad audience of prospects while maintaining contact with existing clients.
The platform offers advertisers an array of precise targeting options, including geographic locations and age ranges, enabling you to engage with a narrowly-defined local audience. For example, you can target an ad to people in Connecticut who are a certain age and gender. It also provides a remarketing facility similar to that offered by Google Display Ads.
Google Ads Vs. Facebook Ads
Many companies use a combination of Google and Facebook advertising to maximize their reach. The two systems have much in common but some significant differences.
Google Ads is basically paid search, while Facebook Ads are paid social advertising. With Facebook, you're paying to get in front of prospective customers on social networks, while with Google Ads, you reach them organically.
Google Ads tend to cost more per click than Facebook advertising. However, potential customers clicking on your Google Ads maybe later in the buying cycle. 
Facebook is good for building brand awareness, but Google Ads is best to reach people at the point of making a purchasing decision. People generally go on Facebook to relax and socialize, not to shop. However, Facebook can still be useful for building your audience.
Both Facebook and Google offer options to target specific audiences by factors such as location, age, gender, and income. Also, Facebook allows you to designate audiences based on an extensive list of behaviors and interests – thanks to the wealth of information they collect from their users.
How Does YouTube Advertising Work?
Online video channel YouTube gives small businesses an affordable alternative to TV advertising and can be honed to target prospective customers by location, age, parental status, and gender.
Many YouTube visitors look for information about goods or services they're interested in, which gives you the ideal opportunity to introduce your business and the benefits customers can get from it.
One of the most popular sites on the web, YouTube, tends to hold the attention of visitors for longer than other social media platforms and build a stronger emotional connection.
Running an ad on YouTube enables localized businesses to engage with potential customers through a more targeted approach than TV, radio, or print channels.
YouTube ads are cost-effective because you pay per video view. A further benefit is a powerful analytics tool. This gives you a clear insight into how your video marketing campaign performs, so you can fine-tune it as and when necessary.
The YouTube network offers several options for both video and text-based ads, including:
In-stream ads – your video ad is shown before, during, or after another video. 

Display ads – you only pay if someone clicks on your ad.

Remarketing video advertising – to target people who've previously watched your video.
How to Get the Most from Your Advertising Campaigns
Pay-per-click can be a robust advertising tool but time-consuming, and unless used properly, there's a risk of throwing good money after bad. The best results from Google Ads, Facebook, and YouTube advertising are achieved by specialists in pay-per-click and video services.
So, when you draw up your digital advertising budget, you should factor in the cost of hiring a pro to set up and manage your campaign in addition to your monthly ad spend budget. Getting professional help can save you money in the long term by maximizing results and avoiding painful and costly mistakes as you learn the intricacies of an ad platform.  
For the uninitiated, pay-per-click advertising can be intimidating. Both Google and Facebook pitch their advertising methods as simple to set up, but their targeting options and advanced features can be complicated. It takes a lot of time and energy to become an expert on either platform.
The problem for many small businesses is that they don't have the time or in-house resources to ensure optimum PPC results. 
Pay-per-click specialists can help you with a systematic approach that can help to set you apart from your competitors by maximizing PPC benefits. Their ability to closely monitor how a campaign performs, make adjustments, and report on a campaign might exceed what you can handle internally.
To work as a marketing tool, YouTube videos need to get your message across fast in a persuasive way. A reasonably polished video-ad can help your business stand out from the competition and generate new customers. For most YouTube ads, the viewer has to watch the first 5-seconds before they can skip the ad. Therefore, make sure that your videos' first 5-seconds are geared towards getting someone's attention and encouraging them to watch more or to get them to click on the link included in your ad.
Other Digital Advertising Sites
Besides Google, Facebook, and YouTube, other online marketing options you might want to take a look at include:
LinkedIn – to establish a consistent, businesslike presence that can ultimately result in more customers.

Instagram – a highly popular image-sharing site that's particularly effective if you want to target young adults.

Bing – allows SMEs to become big fish in a smaller pond.
Tracking Your Ads
You also need a cohesive online marketing strategy – you can't just place an ad and forget about it. It's crucial to understand where your ads are directing people (do you have an effective lead-generating landing page?).
You also need to know how to track your ads to gauge how well they're performing, with tools like Google Analytics and pixel-based tracking. 
Another aid to determine the effectiveness of your ad campaign is CRM (customer relationship management) or a spreadsheet to track all prospects who phone or email you. Even a system of call-tracking numbers can help provide additional data. In the end, you want to be able to look at both the ad campaign's performance and what happened internally with the potential customers that the campaign generated.  
Systems like these to identify the origin of response to your ads can also help you track offline print ads, and so can having a separate web page address. Tracking the results of every interaction with a potential customer will help you understand where they are coming from, what they are looking for, and, more importantly, what they were worth to your business. Knowing that one campaign brought in customers who each spent, on average, $85 vs. another campaign's customers' $225 is vital to assessing the impact and value of that pay-per-click campaign. A well-designed spreadsheet or CRM that everyone in your company uses can efficiently and effectively gather this kind of data.
Now what?
Take some time to think about:
What services and products you sell, and which are the ones that have the best margin?  

What would you be willing to spend to acquire a new customer for that product/service?  

What kind of advertising budget do you think you can manage for 3-4 months? If you work with a PPC specialist, they may ask you to consider a monthly budget starting at $350-$500/month (or higher depending on your industry). Is that something you can live with?

Do you have an internal system to track all the phone calls and email inquiries?

Are you able to update your website to create a unique "landing page" for an offer tailored to the people who click on your ad?

Do you have a system like Google Analytics installed on your website to help you track the traffic that comes to your site?
These are all excellent questions to ask as you think about starting a PPC advertising program.  Online advertising is much more complicated than placing a newspaper ad. It can be incredibly effective for some businesses, and it can also quickly become expensive and frustrating. A poorly designed and/or tracked campaign can leave you wondering where all the money is going.  No business owner likes to wonder about where their money is going.  Take the appropriate amount of time to consider your options when it comes to PPC, talk to professional search engine marketers who specialize in PPC and see what feels like the best option for your business.