Unsolicited calls and phone scams are two of the most annoying things about owning a cellphone, and they seem to be more common than ever. Those of us that are too curious or polite to ignore an unknown number often deal with many cold callers, robocalls, and scam artists. A common scam comes from an automated system claiming to be Google. They want you to stay on the line to chat with their representative about your Google My Business listing which has some sort of major "issue."
Unfortunately, some businesses will fall for the trick in fear that there is actually a problem with their account. The automated call talks about the urgency of the situation in order to panic the account owner. The additional problem for those receiving these calls, as was noted by a Zdnet report in 2018, is that some of the callers do appear to be linked to Google. That is because there are scammers taking advantage of their Google accounts to pretend that they work for the company.
Let's make this clear from the start. It isn't Google.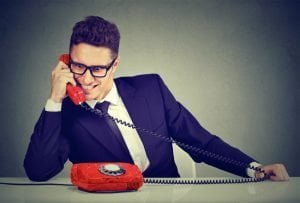 Google will not call you out of the blue.
Don't worry. There is no problem.  There are no urgent issues with your Google listing. You have every right to hang up on them. If they call back, ignore them or follow the advice in this guide to contact Google – the real Google that is. Now, if you are already here, then it either means that:
a) you smelled a rat pretty early on and are taking proactive action to stop it happening again or;
b) this is a common problem where callers can't seem to take your blunt responses as a sign to leave you alone.
Google is on your side.
There is good news here for all these frustrated with these persistent calls. First of all, Google is fully aware of the situation with this phone scam and wants to work with account holders to deal with the issue. This includes measures to identify all those scammer accounts and either remove them entirely or just block their functionality. They also have different ways in which you can get in touch to communicate your grievances, learn to block callers and hopefully deal with the problem once and for all.
The most important information to remember here is this:
1) you can be 99% sure that Google isn't calling you as long as you haven't requested a callback from them.
2) you can find out a form with Google's help center to file your complaint about the scammer.
3) there are additional ways to contact Google if needed.
4) you can work to reduce the chances of receiving these calls.
Contacting Google for help with this phone scams
Ironically, there have been issues in the past with Google account holders struggling to get in contact with Google via phone support. But, there are other ways that you connect with them to get help. The first is to file a complaint via a contact form in their help section. You can access the complaint form here for easy access. Alternatively, you can use the Google My Business Forum, email support or even social media. Twitter posts have the advantage of catching Google's eye and also informing followers about the phone scam, so tweet to Google for help if that's a platform you use.  Google My Business also has a Facebook page that you can find by clicking on the link.
Contacting Google for help with your Google My Business listing
If there is an issue with your Google "listing" – just to be clear, we're talking about the Google My Business listing for your company – you will not get a phone call, you might not even get an email.  You would only notice the issue if you happen to check your Google My Business listing.  Now, I would strongly, strongly suggest that you get in the habit of checking your GMB listing on a regular basis.  If your business gets a review, you will get an email notifying you about a new review…as long as you check the email account associated with your GMB listing.  Or you can download the GMB apps for your iPhone or Android phone.  The apps will notify you about any recent reviews, photos or questions added, etc.  Checking your account will let you know if there are any issues.  A problem with your GMB account could be:
a)  Your office relocated or the business phone number changed on your website, but wasn't updated on your GMB listing
b)  You have information on your GMB listing that Google isn't sure about (a business based in Connecticut, but that also lists Chicago and Houston as areas served…that might be legit, but also looks fishy)
c)  A very bad review.  This last one isn't really an issue in the eyes of Google, but as a business owner you would want to know about it.  The review might be legitimate, but being able to respond diplomatically to the review is vital.  If the review is fake, then you can flag it for Google to review.
You can also contact Google for a callback using this form to deal with any other issues.  However, Google will only call you if you initiate the process of having them place the call, a process that requires digging for the call-back request and filling out a form.  This blog post about getting a callback from Google by Sterling Sky clearly does a good job of walking you through the steps to get a call back.  Otherwise, the only time you will get a callback from Google is to verify your GMB account while you are claiming it.
Don't forget to put your number on the Do Not Call Registry.
To be honest, this isn't a guaranteed solution but it is worth a try. The Do Not Call Registry collects numbers that do not want to be contacted by cold callers and telemarketers of any kind. The idea is that this then creates a barrier between you and all those nuisance callers. The problem is that the more crooked scammers may bypass this and fail to check their list of numbers with the register.
Don't worry about these con artists. Google is on the case and you can just ignore the calls.
It is important to reiterate the there is nothing to be concerned about here. There is no harm in ignoring the calls and reporting the numbers. In fact, Google's strong action here should offer greater peace of mind. If they are already filing lawsuits against accounts then you know that they mean business and want to protect legitimate account holders.
Just remember the following to try and nip this in the bud as soon as possible:
1) Hang up on the caller and don't answer again
2) File a complaint to Google's support system with that form so they can take action
3) Sent out a tweet to spread the word and get Google's attention further
4) Contact the Do Not Call Registry to try and stop it happening again.
You don't have to put up with these sorts of calls. If we all follow this advice and pass on the knowledge to other vulnerable Google account holders, the scammers won't win.
If you are having trouble with Google scams and aren't comfortable using Google My Business or maybe you aren't able to access your GMB account, contact us for help.