TLDR:  Thinking about the questions that your prospective clients and current clients ask on the phone is a great way to identify blog topics. If you hear the same questions several times in a month (or find yourself saying the same thing over that period), those are excellent blog starting points. Yes, there are all sorts of online tools to look at, but don't overlook this kind of grassroots research.
"What should I blog about?" This is one of the most common questions I hear when talking with my clients about blogging and proclaiming its need and benefits. Their fear of not being able to come up with good blog content consistently stops them flat in their tracks. Look, I'm not asking for you to be the next Steinbeck or Asimov. 
As long as you can organize your thoughts and put them down in clear sentences, we're in good shape.
Good blog content on your small business website enables you to stay engaged with existing customers and attract new ones while consolidating brand awareness.
Strong blog posts can attract a lot of traffic to the areas of your site where your calls-to-action are strategically placed – generating leads likely to result in purchases.
Many clients of The Research Department understand the necessity – and potential benefits – of blogging but find it challenging to decide what they should be writing about.
If you're struggling to develop ideas for blog topics, here are some ideas to get you started.
Connecting with Your Audience
An obvious but often overlooked source of blog material is always available to you – your customers and potential clients, who can provide a rich mine of ideas for blogs.
There's a good reason why many of the best blogs are headed by titles such as:
How to…

What is the Best Way to…?

Why You Need…

Benefits of…

Comprehensive Guide to…

Top Tips to…
Blogs like these give people like your customers valuable information. This is why they tend to be ranked highly in search results by Google, which favors content that gives users a good experience, answers their questions, or offers valid, detailed, authoritative advice.
What Blogging Means for Your Business
Think about planning regular blogs with informative, pertinent content that answers the questions your clients and prospective clients regularly ask or help solve common problems.
Keep a list (either on paper or on your computer) of issues or questions that regularly crop up in your interaction with clients and prospects. Review the list after a few weeks. Are there any topics that keep coming up? Blog about these subjects. If you don't answer the phones, ask the people who do to let you know common themes they hear when talking with callers.
Similarly, if you find yourself explaining something over and over when meeting with customers and potential clients, that's potentially a good blog post.
Example
Let's say you run a dental office offering several types of treatments. You could create blogs with titles like:
How to Improve Your Oral Health.

What is the Best Way to Keep My Teeth Clean?

Why You Need Regular Dental Exams.

Benefits of Dental Implants.

Comprehensive Guide to Cosmetic Dentistry.

Top Tips to Prevent Bad Breath.
The content that follows needs to deliver on what the title offers or promises. This usually entails a little research and your experience and expertise, which can lead you to other blog ideas.
Expanding Your Blog Topics
Search engines can be a big help in expanding your blog base with new ideas – especially Google, the largest online search facility in the world.
You'll find that Google acts as a vital research tool if you already have an idea for a blog. It can suggest topics for future blogs. 
Let's see how this works with our hypothetical dentist as they start looking for ideas for their "Benefits of Dental Implants" blog.
They type the search term "benefits of dental implants" into Google, which straightaway pops up with half a dozen recommendations relating to the topic, including;
Benefits of dental implants over dentures.
Benefits of dental implants vs. bridges.
Benefits of mini dental implants.
This gives our dentist three subsections for their blog that they may not have considered themselves.  This is what it looks like on Google: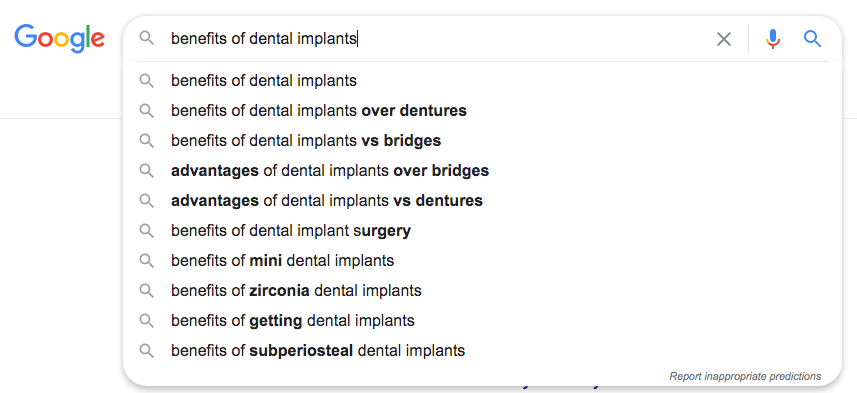 They glance through the main search results and immediately get a rough idea of how other dental practices blog on the subject – helpful food for thought for their own blog. 
However, before clicking on one of these sites, our dentist is savvy enough to scroll down the page, where they find a list of "Searches related to benefits of dental implants," including:
Types of dental implants.
Dental implants procedure.
Best dental implants.
Uses of dental implants.
Way at the bottom of the page, you'd see this: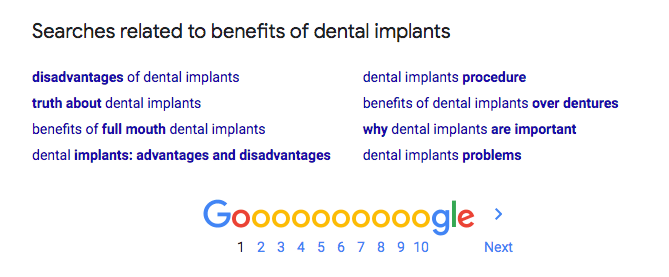 Our dental blogger now has four more ideas they can incorporate into one long, 1,500 words-plus blog – and "Benefits of Dental Implants" becomes "The Ultimate Guide to Dental Implants."
This could be used as a cornerstone article, with each of the sections linking internally to its own stand-alone blog – probably shorter but delving into more detail on the particular topic.
Free Tools to Help You Find Blog Topics
You can get help on coming up with blog subjects and their associated themes with free online keyword research tools like:
If you have a Google Ads account (formerly Google AdWords), you can source more ideas for blogs by using the Keyword Planner tool. You don't have to pay for an active campaign to do this – just set up the campaign. 
Other free resources that may not be immediately apparent as you search for blog ideas include:
News items related to your type of business. A recent example: if you're an accountant who works with day traders, you could blog about how day traders sent GameStop's share price sky-high. 

Ted Talks. With the slogan "ideas worth spreading," 

Ted Talk videos

 can often provide ideas for blogs, mainly if you can find ones relating to your industry or profession. Share them with a few paragraphs about why you think they're important or inspirational.

Business research studies. If you have research data from your profession or a local trade association, share it on your blog. Google loves a good table or chart. Don't be overwhelmed by the use of the word "research" here. Your data might be something that you already have or can easily develop.  

For example, If you are an accountant, maybe you track how many tax returns you file in February, March, and April. How many of those receive a refund via direct deposit or a check? Are there any interesting findings in this data that you can share? Is there a correlation between when you file a return and how quickly the refund is received? What data can you find hidden in your records?
Benefits of Coming Up with Good Ideas for Blogs
Blogging with quality content regularly can boost your search engine rankings while increasing visits to your business's website and helping you to establish yourself as an authority on the topics you write about. 
Posted consistently, blogs consolidate your professional credibility in your niche and form an integral part of content marketing strategy. 
This is one of the critical aspects of what Google looks for on a website…is the information helpful and authoritative?
By providing fresh, relevant, and interesting content to your readers, you give them a reason to keep coming back, which increases the likelihood of future purchases of your goods or services. Plus, websites that get clicks are noticed by Google, it makes the association that people like what you have to say and is inclined to place your website higher in the search results.
However, it's not always easy to pump out new content, especially if you feel you have nothing to write about anymore. We hope these tips on what you can blog about will help you break through any writer's block to create many quality posts in the future.
One final, cautionary note: be careful to avoid breaching copyright laws in your blogs.